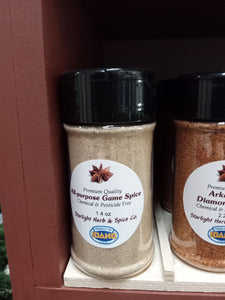 The All-Purpose Game Spice is custom blended to enhance, but not mask, the flavors of wild game. This versatile blend enhances the flavor of commercial meats.
Use as a dry rub, make a tasty marinade, or season soups and stews.
Ginger powder, onion powder, allspice, cumin, cinnamon, rosemary, oregano, dry mustard, oregano, curry, cayenne pepper.
Can also be used to flavor meats after brining.
Our rubs and spice blends may be just the ticket for those who think wild meat if too "gamey".
Check out our nice selection of brines as well.