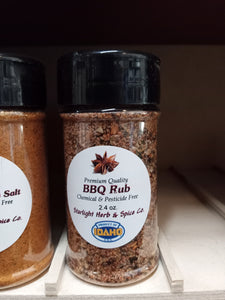 If you have only one BBQ seasoning in your cupboard, this blend should be it.
It's terrific on any kind of barbecued meat, fish, chicken or pork, and also brings a special zesty flair to vegetables and potatoes.
A blend of black and red pepper, garlic, paprika, red and green bell pepper, onion, herbs, cayenne pepper, chili peppers and a dash of sugar and salt makes this all-purpose seasoning is one of our biggest sellers.
Dry rub it generously on any meat or fish before grilling, or use it as a great flavor enhancer in any type of marinade.