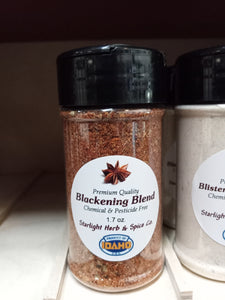 Blackening blends originated from Southern Louisiana style cooking, but have become "the rage" nationwide over the past few years. It's a terrific way to flavor white fish, but also works wonders with many other foods, including shellfish, steaks and chops.
Many cooks also find it additive to soups, stews and sauces.
Our mix of paprika, onion, chili pepper, garlic and spices is a great way to blacken meat without masking its true flavor.
Rub a dab of oil on meat or fish, dredge in the seasoning, and pan sear. Add a dash of cayenne or Cajun spice for a hotter version.