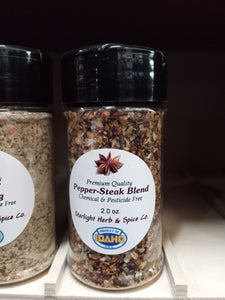 Introducing the new Pepper Steak blend.
This zesty cocktail pepper blend brings steaks, prime rib, tri-tip, wild game to life with a medley of flavors.
Himalayan salt, black pepper, bell peppers, jalapeno, garlic and spices.
This one is very versatile and can be used on just about anything.  
Dry rub it generously on any meats before grilling or smoking, or use it as a great flavor enhancer in any type of marinade.